Do you want to start a successful blog and make money from your blog?
If you want to start a blog for fun and share thoughts that comes to your mind with the world that's quite easy, but starting a successful blog is different from just starting a blog, and in this post I will show you exactly how to start a successful blog.
You probably have been googling how to start a blog, you read other people's blog and wonder how to become successful like other bloggers. Perhaps you're a stay at home mom, or you're currently stuck at your 9-5 job and you're overwhelmed.
Blogging is fun and quite easy. I enjoy blogging and that is why I started this blog so I can share as many juicy contents as I can with you and inspire you to start your own successful blog.
Starting a Blog is one of the easiest online businesses you can start and make substantial income, so don't sit on the fence again, come join the community, it's fun. You don't need to be tech savvy. I will walk you through the entire process and your blog should be up and running just like mine.
So let's get started,
1. Figure Out Your Niche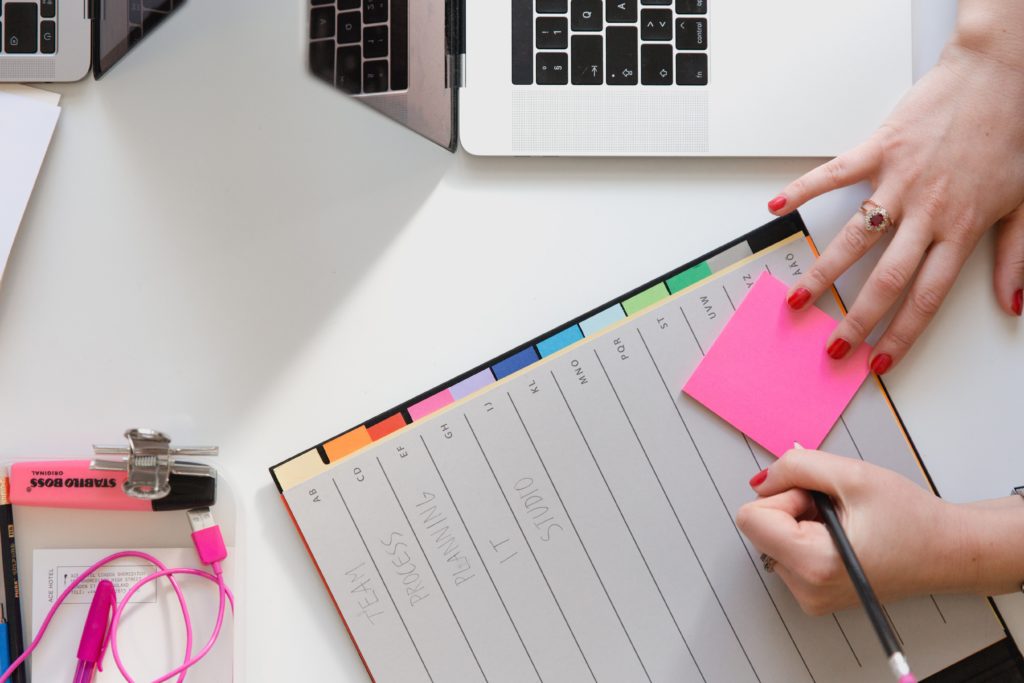 If you want to have a successful blog, then you must figure out what is it you want to write about. It can be challenging at first but when you truly sit down with a pen and paper and put your thoughts into writing you will come up with a niche that you're truly passionate about.
So to figure out your niche, ask yourself this question,
What are you passionate about?
What keeps you up at night? What do you keep researching on, what's that topic that you surf the internet about consistently? And that you also enjoy talking about.
Is there an Existing Market about it?
How do you find out if there's an existing market about your passion? Are there blogs already talking about this? You can type in your keyword and see if there are lots of questions as regards that topic, if so you've got a viable niche.
Can you monetize it?
I know blogging is fun, but your goal here is to start a successful blog as an online business that will enable you stay at home, and be able to earn a living online. So you have to decide how to monetize your blog. You can choose affiliate marketing, sponsored post, or start a service.
2. Choose A Blogging Platform
My blog is a wordpress.org. I prefer wordpress.org and also recommend it because:
You have more options to customize your blog, as there are many customization options to choose from including plugins and thousands of themes to make your blog represent your brand effectively and effortlessly
It's highly optimized for search engines. You certainly don't want to start your blog and then no one reads your blog.
With WordPress.org, you can easily turn your blog into an online business because of the many options that it has. So your blog can grow into a blossoming business.
A wordpress.org blog requires hosting, and I will walk you through how to set up your hosting using Bluehost.
3. Choosing A Web Host
There are many hosting companies out there, but when it comes to wordpress, bluehost is highly recommended, and it has been around for more than 10 years but much more than that here are more reasons why you will love bluehost:
Easy to use control panel
Premium customer service, reliability, and usability
Custom-built servers to provide the most stable and reliable hosting environment
Quickly get started with our one-click WordPress install provided by MOJO Marketplace
Expert, in-house technical support provided 24 hours a day, 7 days a week
Unlimited websites, email accounts, and domains – all on one account at an affordable price
No gimmicks, no contracts. Enjoy the comfort of a 30-day money back guarantee and the option to cancel at any time.
And if you sign up through this tutorial, you will get a special offer of a shared hosting for $2.95/month for 36 months and also a free domain name for a year.
To setup your hosting account with bluehost, follow the steps below:
Set Up Your Hosting Account
To get started, go to Bluehost's home page, and click "Get Started"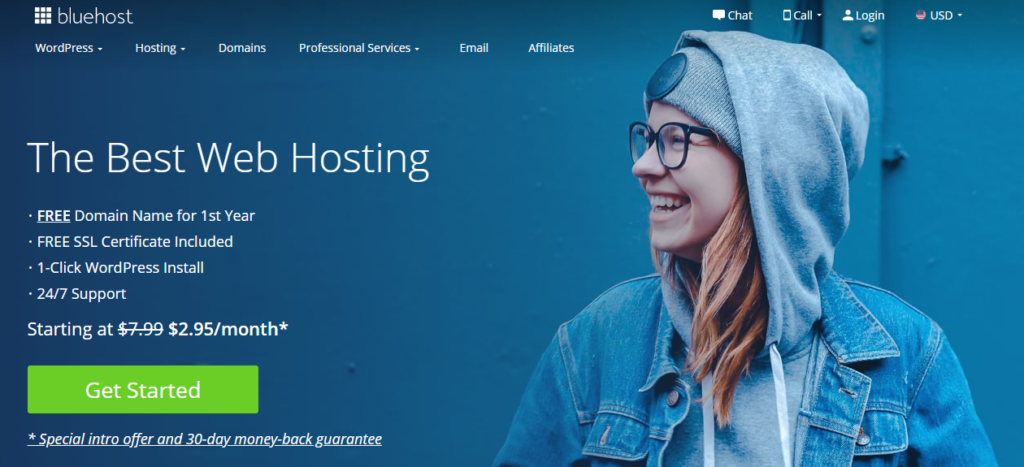 Choose A Plan
Here you will choose a plan, bluehost offers four plans for you to choose from, you should start with the basic plan, so click on the "select" button for the plan you choose.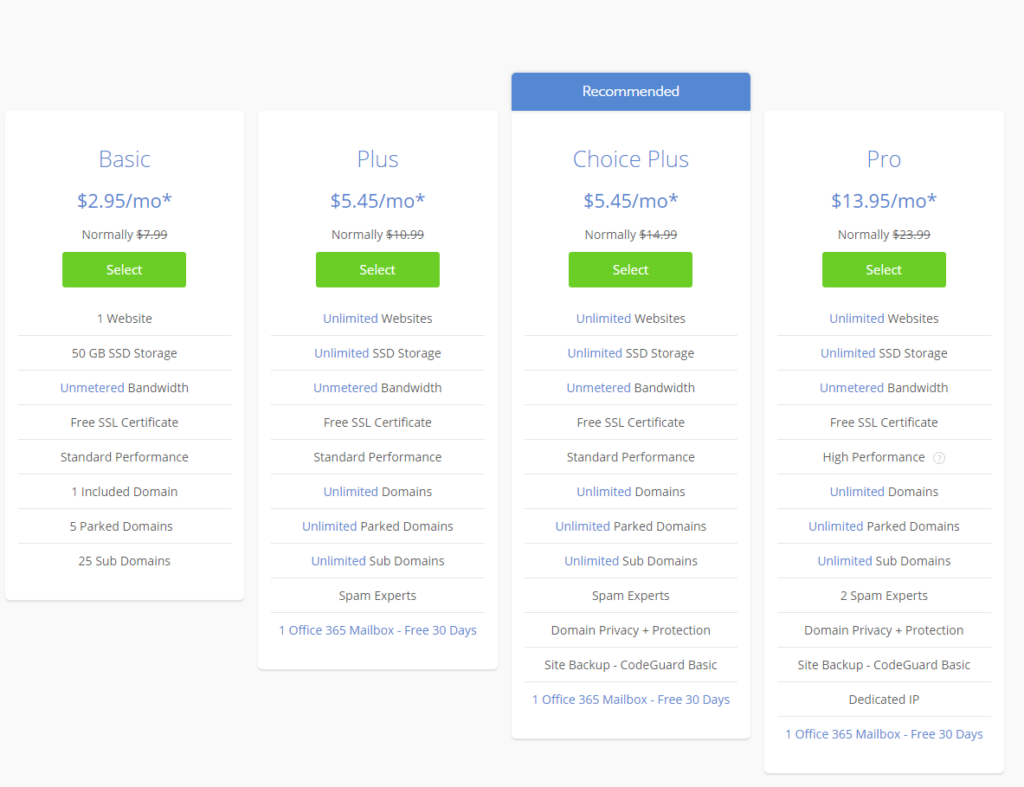 Next, we'll set up your domain
Next you need to choose a domain name for your site. If you already own a domain name, you can enter it here, you will just need to go through a few steps to get your DNS pointed to Bluehost. But if you don't have one, you can easily purchase one in the sign up process and the best part is comes free with your new wordpress hosting account purchase.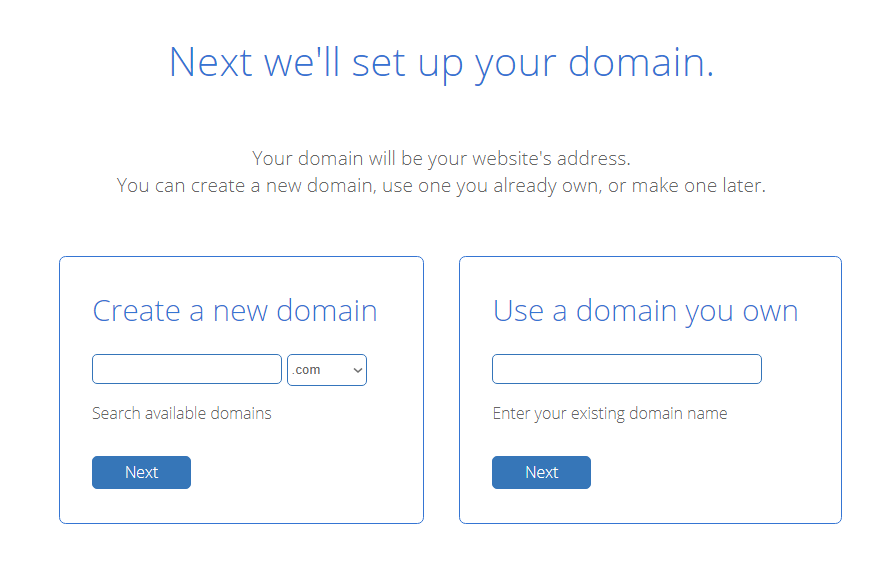 Create Your Account
Once you've entered your domain name, you will fill in your personal information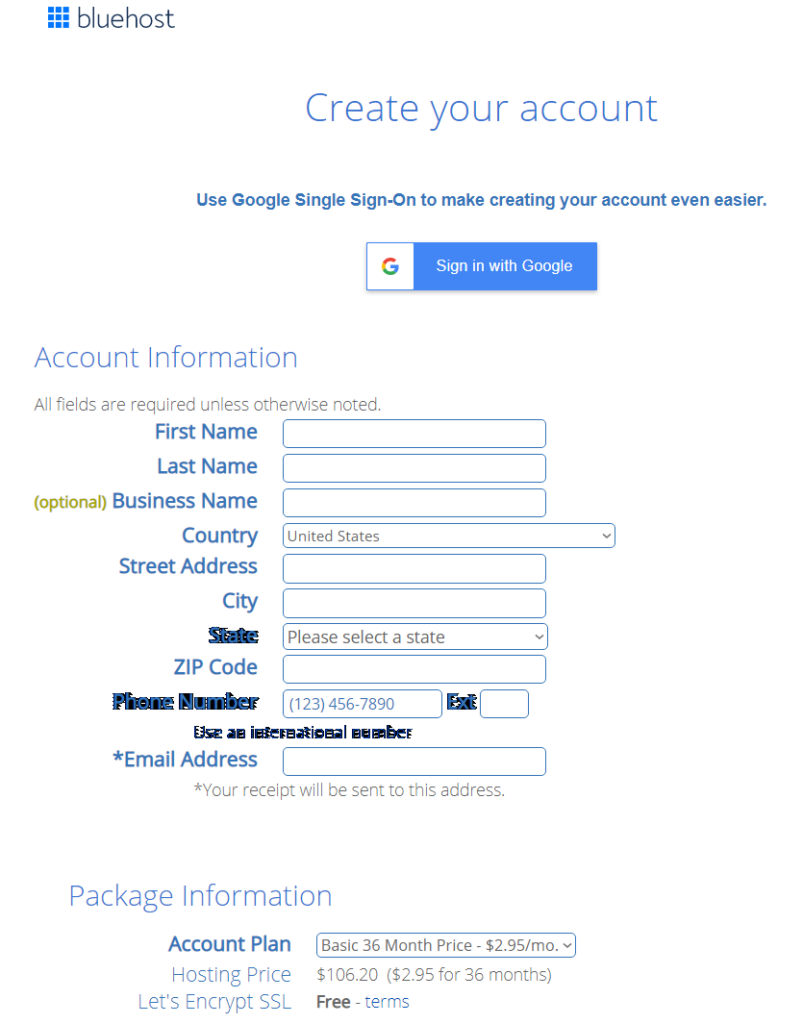 There are a few other options provided at sign up, but I recommend that you include is Domain Privacy, a paid service that allows your personal information to be kept private on WHOIS databases.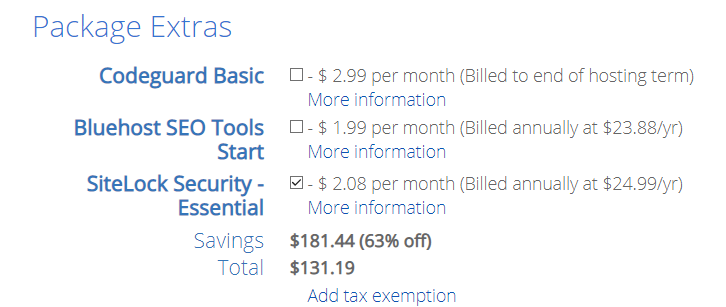 Payment Details
Then next, you put your payment details, then agree to the terms and conditions of bluehost by clicking the small box and then click submit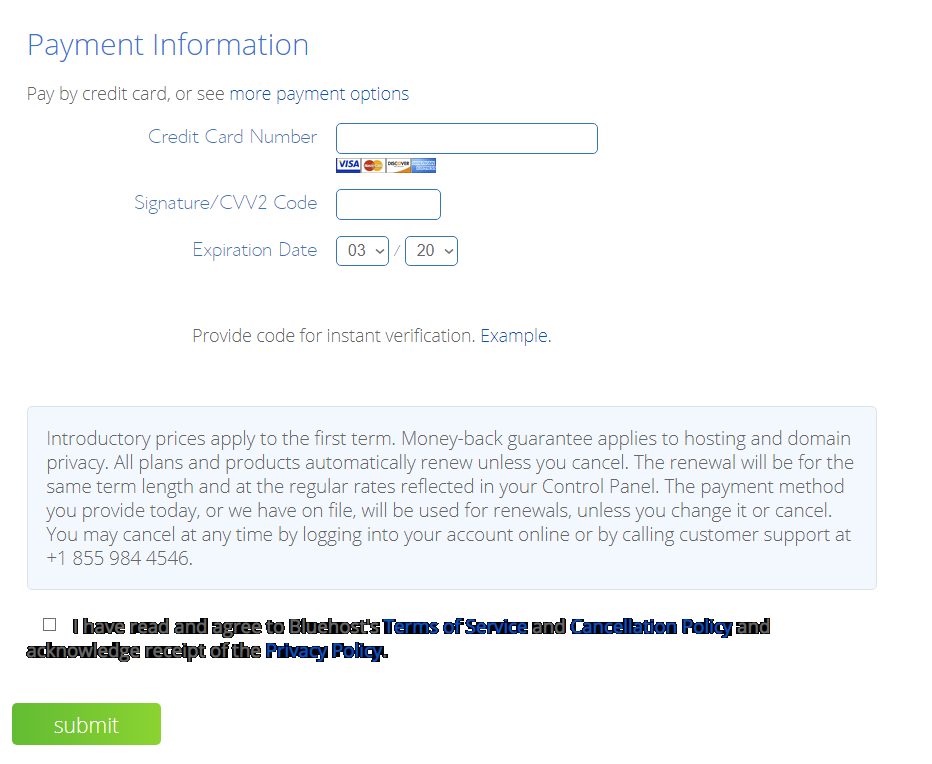 After you've filled in your information and chosen your hosting package, click the "Next" button to complete your purchase. You'll then be asked to create a password for your account. You can use the Password Generator to create a strong and secure password, or create one yourself. It is required to have both capital and lowercase letters, a number, and a special character (?!#, etc.) in order to have a strong enough password to protect your account.
Now that you are all signed up and are able to log into your account, you can get started installing WordPress!
Now, let's install WordPress.
Install WordPress
This may seem like the most complicated step, but Bluehost has worked hard to make this one of the easiest things for you to do by using the new MOJO Marketplace for installing WordPress and other applications. In your cPanel, scroll to the section titled "MOJO Marketplace" and choose the "One-Click Installs" button. This will take you to a page inside MOJO Marketplace called Scripts and Platforms. The blog section is at the very top, so all you have to do here is click on the WordPress icon.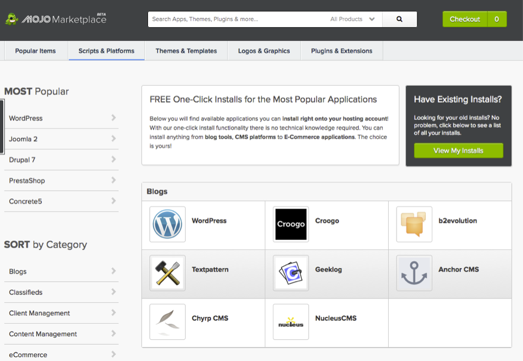 This will open the installation window. Click on the green "Start" button that will start the WordPress installation process, which has a few easy steps.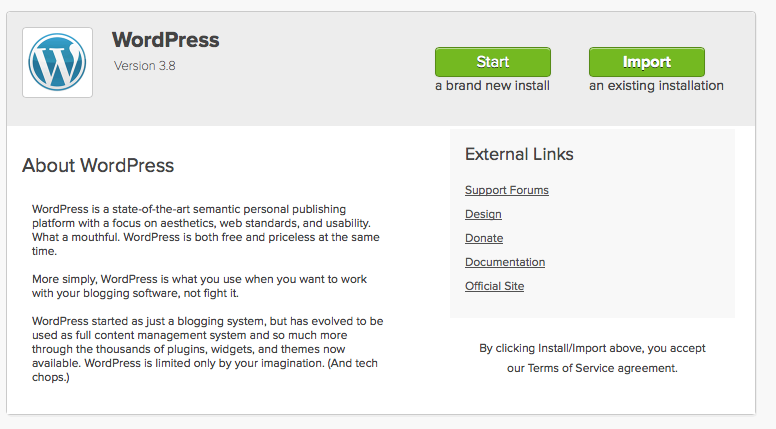 Step 1: Choose where you want to install WordPress. This can be any domain on your account, or a subdomain or a folder for one of your domains. Next, click on "Check Domain," which will make sure the domain is assigned and pointing to your account. You may get a warning that you are overwriting files, but as long as you don't have another website built yet, you can check the box and continue. This is mostly to make sure that you really want to install it in that location. If you do have other sites built, you will want to make sure you're not overwriting something important.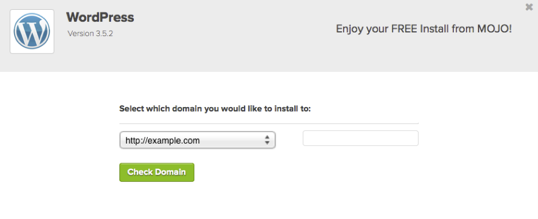 Step 2: Show Advanced Options. This section allows you to set up your own username and password for your WordPress install. IT is recommended to use a different username than "admin" and a very strong password. Make sure that the "Automatically create a new database for this installation" box is checked, unless you have a database already set up that you want to use.
Step 3: After you've read the terms and conditions, check the box indicating that you've done so, then click "Install Now."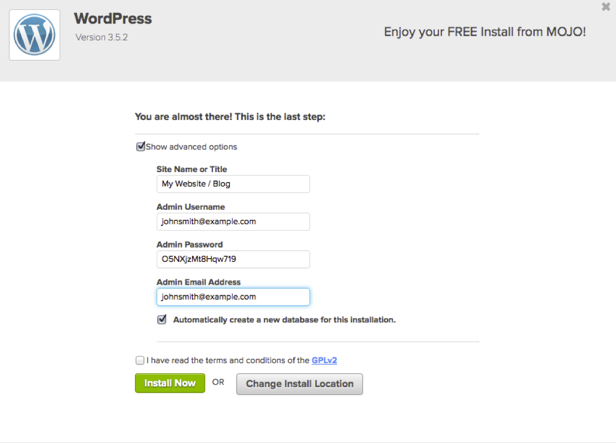 Now you'll see the progress page, which will show you how far along the installation is. Once WordPress is fully installed, it will provide you with your site URL, the admin login URL, your username, and password. You will get a copy of this information, except your password, in your email as well. Make sure to keep it in a safe place.

Now you can log into your WordPress site by going to the admin login URL. Enter your username and password, then click "Log In." This will take you to your WordPress dashboard. From here, you can control everything to do with your WordPress site, such as creating pages, writing posts, and changing the appearance.
Remember, if you sign up through this tutorial, you'll receive a special offer of shared hosting at $3.95/month for 36 months, as well as a free domain name for a year!
Need Help? Check out my service page on how I can help you to setup your blog successfully.
Now, let's install a theme, to design your new blog.
Install A WordPress Theme
The function of the theme is that it controls the general look and appearance of your blog. It can also affect the SEO of your blog. So before you choose a theme, make sure you check the theme ratings, reviews, and downloads.
WordPress also has premium themes which you can easily purchase and use.
But as a new blogger, if you are not ready to invest in premium themes yet, then I'd recommend that you use the Astra theme. Astra is my current theme, it is simple, light weight SEO friendly theme and has many customization options as well.
Astra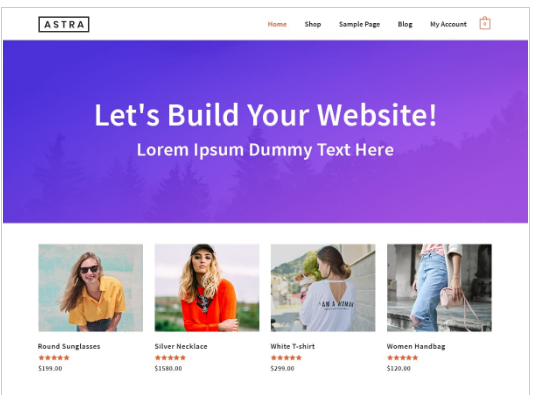 How To Install A WordPress Theme
Go to your wordpress dashboard, click on "appearance", "themes", and click on "add new". Type in the name of the theme you want to install in the search box, next click install to install your theme. Once installed, click activate. And that's it, you now have a beautiful blog.
Next, we need to install a few WordPress Plugins to improve your site's functionality.
Install WordPress Plugins
There are more thatn 50,000 free plugins available in the wordpress directory and thousands of premium plugins as well. These plugins improves your site's functionality. You can do various customization with these plugins.
You can add more widgets on your blog, add contact forms, and optimize your entire site for SEO with the use of plugins.
Just know there's a plugin for everything.
To upload a plugin in wordpress: Go to your wordpress dashboard click plugins >> add new >> type in the name of the plugin in the search box, click install and then activate.
Here are Five Necessary Plugins You should start using from day 1:
WP Forms
Once your blog is up and running, you need a contact form to allow your readers or potential clients to contact you. Whether your a new blogger, it does not matter because there will be someone who will need to contact you. Always remember to treat your blog as a business.
You can easily create a contact form for free using WP Forms, a wordpress contact form plugin.
Follow this step by step guide, on how to create a contact form using WP Forms and create your own form.
Yoast SEO (For Optimizing Your Posts For SEO)
As a blogger your blog posts are written for human and search engines, and you need to start optimizing your posts for search engine so that your readers can easily find you.
Yoast helps you with everything you need for optimizing your blog posts, and it's also free. So download the Yoast SEO Plugin
MonsterInsights (For Google Analytics)
As a blogger, you need to track your blog traffic, so that you can understand your readers interests, and behavior. And to achieve that you simply create a google analytics account(it's free) and link it to your blog. Google analytics can be a bit confusing for a beginner, but with MonsterInsights plugin is created solely for you to understand your stats. It displays google analytics directly on your wordpress dashboard in an easy way for you to understand. So after creating your google analytics account, download the MonsterInsights Plugin.
Follow this guide, for how to properly setup google analytics in wordpress
Social Warfare
There are lots of social sharing plugins out but I recommend and also use Social Warfare because its's simple, easy to setup and effective. Just go to your wordpress dashboard, click on Plugins, >> add new, in the search box, enter the name "social warfare" click install, then activate and then configure using your social accounts username.
UpdraftsPlus For (Back Up)
All sites across the internet have a high risk of getting hacked. Which means there's a possibility of loosing all your entire site. And to avoid, you need to install and use a reliable plugin.
Updraftsplus is the best plugin that is easy to setup and it's free. On your wordpress dashboard, go to plugins >> click add new, in the search box, type in updraftplus, then install and activate.